Hey everyone, So I got back from my time away at Nevermore. Had the BEST time, obviously! I never get as many finished/ healed photos as I do at Nevermore (in Daventry). Not sure why this is, but it's always great. This post is all about Daventry: for some reason, people from the Midlands don't half love colourful tattoos!
I started this robin and squirrel half sleeve on the wonderful Lynzi, who I've tattooed a bunch of times. So good when she's in and also this is one awesome tattoo idea for me to get stuck into!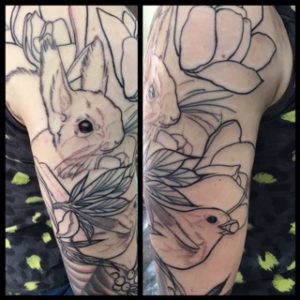 I got to do more on Emma, the sweetest, loveliest gal everrrrr. True labyrinth fan! Her kids even call Jareth "the juggling king" which is who we will hopefully do next time! Bulge and all. This time was the cute cute woim though. He's gotta be everyone's favourite bit part though right? All of the others are by me apart from Sir Didimus who is by Emily Dawson:Holyghost Tattooer
Then I got to finish Charlotte's Chameleon and cala lily thigh piece. Oh my god how much fun I had with this. I got to pack in as much colour and detail as I wanted!
I got to make this excellent pun tattoo for Sarah. Some rose-hips….GEDDIT?!? It took me a while because I'm dumb. But I really do love tattooing roses. Anyone else wants any, hit me up. I love em. They're the best.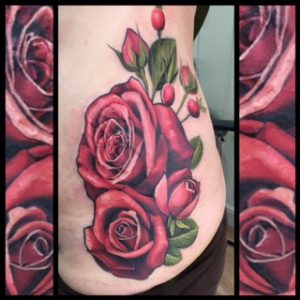 We also had a hot tub/sausage party.These guys know how to live.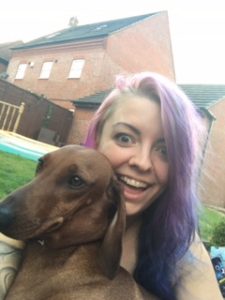 Thanks Dan, Danielle, Brodie, Sophie mooncup and Hannah for bringing me joy and solace in these stressful and crazy times!
xx