So last week I got to do a guest spot at Legacy Ink in Haverhill. It's home to some of the best Tattoo artists in the UK and therefore pretty intimidating to a worry-pig like me. I needn't have worried though, everyone there was super hard working, humble and generally lovely. They made me feel really at home and took me on some GHOST HUNTS (those of you who know me know how much I love shitting myself up with ghost stories!)
I got to make some lovely tattoos whilst I was up in Suffolk, and got booked up really fast! So it means I will be going back in the new year!
I made this cockatoo tattoo on the talented apprentice/jr artist Jess Ashby, she wanted a tattoo to remind her to have fun and not get so stressed out about tattooing!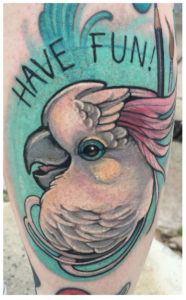 And I got to make this palindromic TacocaT tattoo for Ed
He loves the weird ones! And so do I
I'd love to tattoo more animal/food style tattoos!
I did a few more bud sadly did not get a decent photo of ANYTHING because I am a monster.
Anyway, I enjoyed my guest spot immensely but it is good to be home in Bristol again. I have tonsillitis at the moment (hense the crazy blog updatathon) but can't wait to be tattooing full pelt again.
x