Hello! What a hectic few weeks but very very fruitful! So after leaving Southmead Tattoo Studio I had a few guest spots and a bit of travel, the penultimate destination was Cardiff! I guested with my good friend Patryk  Mazur at his own little amazing studio Surrealistic Sanctuary on City Road.
My biggest thanks to Patryk, I really had the best time and as usual he went above and beyond to help me out. deffo go give his Instagram a follow.
I made some more progress on Dave's Slow Sleeve tattoo
Sloth is healed and the tortoise is only half done but I am really looking forward to getting more on this done 😀
Also Dave shared with me a photo of his cat Jacob with his tattoo!
I also did a bit more on Mark's Dia de los muertos gal
It has got a tonne more to go though!
The Cardiff Tattoo convention was also amazing this year. I tattooed Dan's other Chi Leela on his thigh. He sat for 6 hours with a broken leg (no painkillers) to get this done. He is a hard bastard!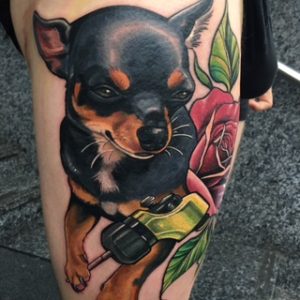 Also amazingly I won an award for best of day!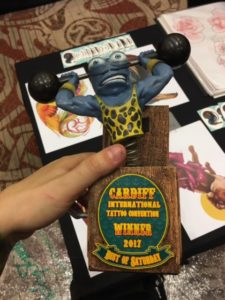 Me Ruthey, Dan, Dan and Brodie went out afterwards to celebrate like the old farts we are and had a really fancy dinner!
Cardiff was great! I had the best time and hope to be back next year! Such a nice friendly convention!
Hannah
x