So I am back from Borneo refreshed and rejuvenated, I don't know what I'd do if I wasn't coming back to my beautiful studio and tattooing such good people. This week has been full of good stuff, I've started some new amazing tattoos, added to some older ones and almost finished a couple!
I'll start with Simon's skull, he wanted a dark mark but not in the prison style tattoo. He definitely wanted something super badass. Harry Potter tattoos win.
and while he and Kirstie were in Oxford  I got a decent photo of Kirstie's unfinished spooky lady tattoo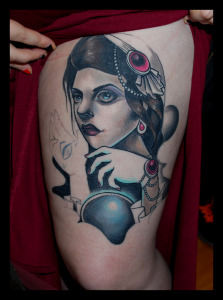 So the big news is obviously that Helen started at the Oxford studio before I went on holiday and she has been thriving! So if anyone wants to get a tattoo by an amazing tattoo artist without a zillion year waiting list then you should definitely take a look at her Website.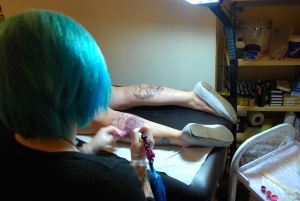 Here she is tattooing my good pal Lori
Here is a pic of an avengers tattoo I've been working on for a while now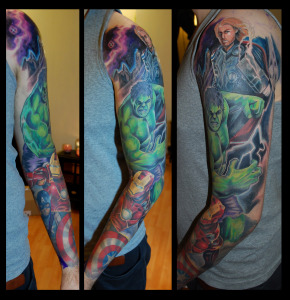 And here is a stag Tattoo I started
It's going to be surrounded by jewels, flowers and lace. Love doing lush girly tattoos <3
Here is a hedgehog, this is part of a huge Radagast the brown themed piece on a leg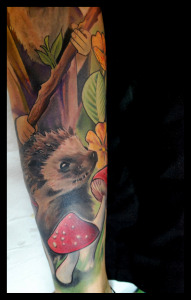 Here is a black and grey religious sleeve I've almost finished!

Finally I made this tattoo on the lovely Lee Silver….a little stone dreaming his cactus dream, colour to come later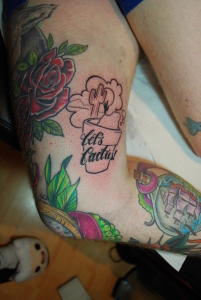 Well, I have to say seeing Jen and Helen again and doing all these lovely tattoos on people have made coming back to my little Oxford tattoo studio a lot nicer than any other time I've had to come back off Holiday. Here are some snaps from my jaunt away
Laters Slaters!