Hey everyone, hope you had a goodun! Happy 2015 etc etc.
Before christmas I did a fair few tattoos that I was really happy with, the first one was this kingfisher watercolour style
Loooved doing this on Kerry, she's coming back to Oxford soon for a stag on the other thigh 🙂
Since the last blog post I finished the Radagast tattoo, this was one that was completely out of my comfort zone but I enjoyed doing it so much and it turned out even better than I thought it would. Wizard tattoos win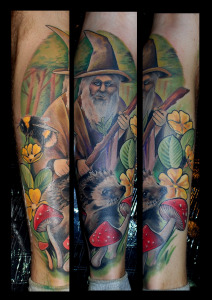 And here is a black swan tattoo which I absolutely love the result of too. There are plenty of swans around Oxford for me to use as reference. This rose with water droplets was absolute heaven to tattoo!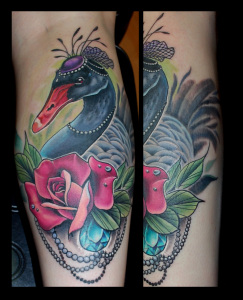 I started this Beauty and the beast tattoo just after christmas, Disney tattoos are starting to get really big and I just love putting my own spin on the disney artwork. As a tattoo artist it's a huge priority for me to never do the same tattoo twice.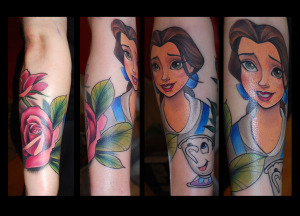 Managed to finish Chris' Mexican day of the dead themed leg sleeve. When doing tattoos based on artwork from another culture I try and put enough of my style in it so as not to appropriate anything too much. My main concern is to do a tattoo that looks amazing without being offensive. Cultural appropriation is a big issue in tattooing, and I feel it's our duty as responsible tattooists to read up on it and reach a good compromise between what people want, sensitivity to cultural issues and also our artistic integrity.
If you would like to read more about cultural appropriation here is a link to a good list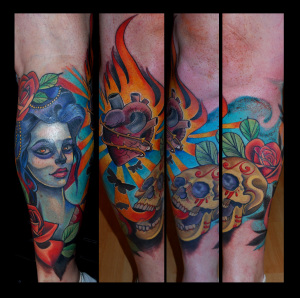 I got to tattoo Miss Argentina from Beetlejuice too! WOO!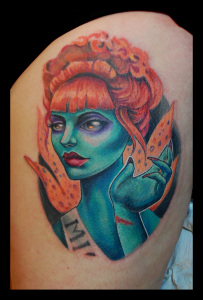 Anyway, I'm doing a couple of conventions this year but mainly will be working solidly at our little tattoo studio in Oxford
If you would like to make an appointment, as always check out the FAQS and send me an email!
Until next time!
Hannah
x