So this week I have time off tattooing to set up Jericho tattoo emporium! I've got a lot to sort out but it'll all be worth it in the end when me and Madame Silver have our very own little studio. We are going to put some photos up on Friday hopefully.


Here is a sneek peek at Ian's flamenco pinup, she's looking good- can't wait to finish his Spanish themed leg.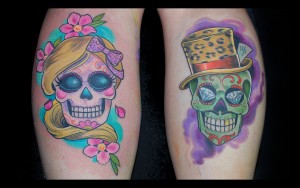 Here are some cute sugar skulls I managed to do in just over 3 hours, they're pretty small but managed to get some nice detail in there!
My last day at Black Rabbit is this Saturday, I had a night out with them and lost my phone! It was worth it though (unfortunately Rachael Riot couldn't be there too)


I'm gonna be back there the first friday and saturday of every month (from April) and I am also going to be doing the Cardiff Tattoo and Toy convention with them in July. It's Star Wars themed so anyone who wants a Star Wars tattoo gets first dibs!
In the words of Columbo- Just one more thing
I am in this months Under the Skin magazine, it is a great little magazine and totally free so head over there to read it
http://www.undertheskinmagazine.co.uk/
Laters, A.C Slaters
Hannah Calavera
x