Hey everyone, it's been a busy few weeks! I had a great time at the Cardiff tattoo and toy convention with Madame Silver and the guys from Black rabbit.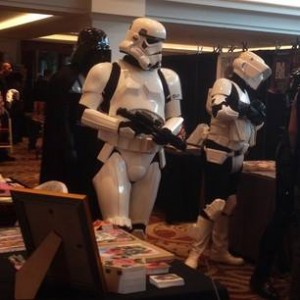 We met Jack sparrow, Darth Vader and a bunch of sexy stormtroopers. Mmm tall.I tattooed this lovely mardy poodle lady on Lori-Jade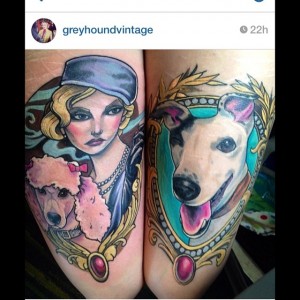 I didn't get a photo of it so I stole this off Lori's IG, you should follow her if you love vintage clothes, greyhounds and sexy pinup ladies. The whole convention was full of amazing tattooists- in fact some of the best tattoo artists in the country. It was really intimidating, but so inspirational at the same time. I'll be going back next year. Thankyou to everyone who came to say hello/supported me.
I've been pretty busy since getting back, I've done some really fun tattoos. I started this lovely day of the dead pinup.
I've been trying out some new equipment and techniques lately and just having fun with things and I've loved the results. Here are some peacock feathers I managed to start and finish in the same session.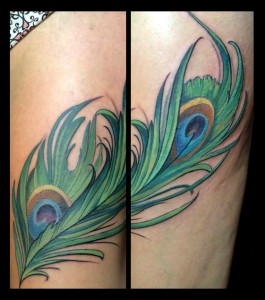 Here is a little (little! Ha!) thigh tattoo on Chris, I've been trying to make it look painty 🙂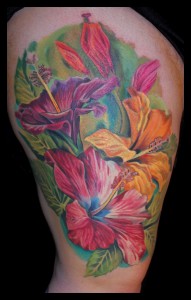 Aaaaand breathe! So the female tattoo show is coming up in September, I'll be working it with a tonne of really good friends and lots of other sexy ladeez. I'm also looking forward to our guest artists!
In other news I've taken on an APPRENTICE! OMG. She's showing some real potential and helping me out no end with my emails/workload at the shop, Follow her on her Instagram to see how she develops!
Thanks for looking my dears! Hopefully I'll have more to show and update with from week to week now I am taking more photos.
Hannah
xxx