Hey everyone!
I thought I'd post some pictures of ongoing work for a change! You can see pictures like this on my Instagram if you so feel the need!
This is the start of Dave's SLOW SLEEVE. I've got so many things planned for this and he has given me a lot of artistic freedom and likes the same weird tattoo ideas as me! I can't wait to do more on this.
Here are some shots of my pal Ruthey's octopus tattoo as well, anyone that has emailed in the last few months will know Ruthey as my amazing email helper!
Me working on it!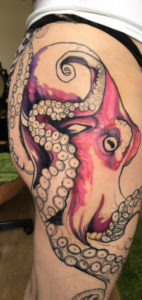 And how it looks so far! Another session at Cardiff tattoo convention planned, if you're attending on the Sunday you should come say hi!
I also started a couple of backpieces, unfortunately, all of the photos bar the backed up ones have gone down the toilet (with my old phone) so I've only got the stencil photo of this stag tattoo!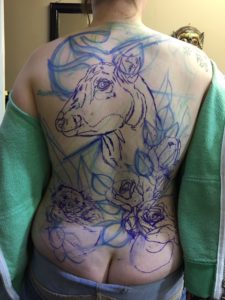 Catch you on the flipsiiiiiide
x