I've been enjoying my time at Black rabbit in Newbury a lot. I know I'm only a guest artist but all the guys have made me feel really welcome. And I've done some really fun tattoos too.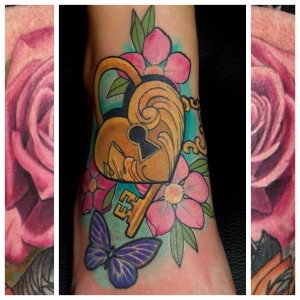 I've been tattooing Becca for around 3 years and she let me do this lovely lock and key,and jazz up an old butterfly. Sat like a rock too which is a bonus. The sides of this pic are a bit of a montage on Helen Courtenage's arm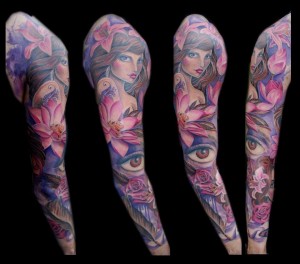 After a year I finally finished Mark's ladyface sleeve. Very fond of this one! It was nice to spend such a lot of time with an old friend.
Here is a shot of something small I added to Hannah's half sleeve before Xmas

Here is a photo of Christian's finished sleeve too, I started this one 3 and a half years ago so it was nice to finally finish it-also good to see how much my tattooing has changed over the years. You can see on this shiny pic where I've gone back in and reworked a few bits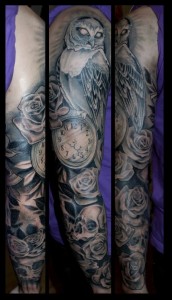 In other news, the Jericho studio is coming along. This weekend we are getting all the equipment down there and Monday is a meeting to see if it's ready for opening! How exciting, we still haven't found a place to move into in Oxford yet but I'm hoping it'll all fall into place.
X