October is almost here! A lot has happened in the last couple of months so let me dish the gossip!
First of all, for the last 3 weeks we have had the pleasure of having Aimee Cornwell as a guest in the studio. She did some amazing tattoos and I can't stress how much she has taught me in terms of technique but also the courage I need to do do more freehand and generally just be more confident in my work.
She also gifted me this amazing tattoo, which hopefully I'll get to repay when I do my guest spot at Nemesis Tattoo Studio (Seaham) in January. I am mega excited about going to work with such a talented bunch 😀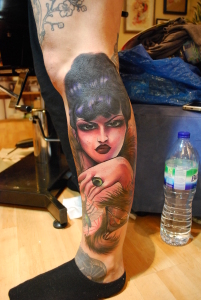 Aimee's gone now, working the London Tattoo convention and then off to Berlin.
Briony, our little apprentice is also at the London convention this weekend just for fun. I tattooed her this week, covered up a near invisible old tattoo, It was nice but unfortunately if you don't use any black ink things all but disappear in a few months.
And while she was living it up in London, I had a full day NO SHOW! on a Saturday…So I could have gone after all. Luckily I got to tattoo this delicious burger <3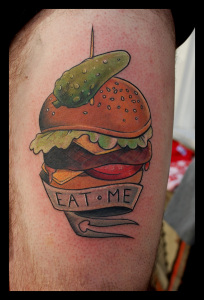 I cannot explain how much I've wanted to do a food tattoo since I started tattooing!
I got to add this yellow rose and claddagh to Nick's plaque, a real honour as the plaque was done by an amazing artist Hayley Hayes. Look how solid her colour is!
Also made a start to the competition winner-Kirstie's spooky lady
Can't wait to finish her!
The most exciting news though is that we have another artist coming to work at Jericho Tattoo Emporium. I've been really busy and can no longer take on much smaller work and my good friend Helen Louise Courtnage was looking for a Studio so et voila!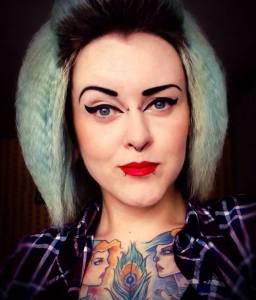 Helen is an incredibly solid tattooist , you can find her portfolio on the Jericho Tattoo Emporium website, or on her website www.arubablue.net
She will be working 1 or 2 days a week at first depending on demand then after Christmas she will hopefully be fulltime!
Oh, one last thing- Jen has updated her website so you can now buy her gorgeous jewellery and magic potions online!
http://www.madamesilver.co.uk/
Things are really taking off now, we never knew how successful it would be to just have a couple gals doing our thing in a Jericho basement. Thankyou to everyone who has supported our little venture from the start, we really appreciate it. <3