Hey everyone, it feels like it's been a long while since I last made a blog post.
Jericho Tattoo Emporium is up and running and is a little slice of heaven.
I love being back in Oxford, and looking forward to moving this weekend so I only have a 20 minute walk to work every morning.
Sooooo the last few weeks have been a bit of a haze of setting up, commuting, going to Raoul's a lot and generally having fun with Madame Silver, in fact this Saturday she did a little bit of laser tattoo removal patch testing on my various bits and bobs I am not 100% in love with anymore.
Her laser machine actually doesn't hurt anywhere near as much as my previous experience at other studios…. If you've fallen out of love with your tattoo send her an email via her website to have a free consultation/quote www.madamsilver.co.uk
Here is a picture of her touching up a tree, and a juicy margarita from Raoul's Bar (next door to us)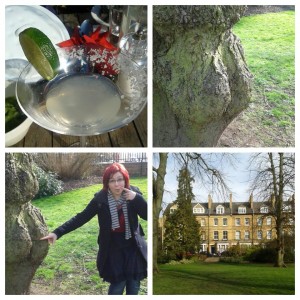 Another bit of exciting fun is that Jess is coming to guest with us, I tried so hard to make one of those cool montages for IG but could only manage this- its got a few gorgeous examples of her work but you really need to check out her website/FB/IG for more!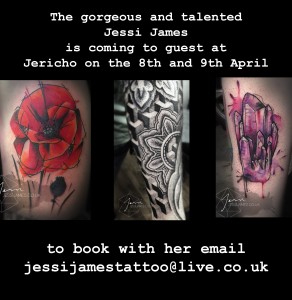 and then here are some of the tattoos I've been working on
a tattoo of Aku Aku from crash bandicoot, I love tiki stuff and Crash so this was so much fun! love the colour scheme with this, really need to do more tiki inspired drawings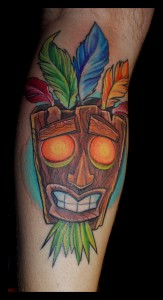 here are Rosie's feet, latin wolf and fawn. Amazing idea, very lovely and clever lady. I had a blast tattooing her…I don't think she felt the same way by the end!! no one loves getting their feet done. But she sat like a rock

Ooooh this was a fun one I did just the other day on another lovely lady, hopefully be getting a healed photo of this to show how some of the greys lighten up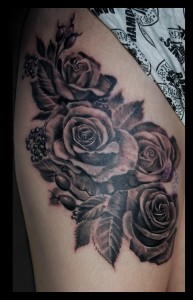 Started and finished this on a lovely fellow who travelled all the way from Lincoln, of his pal Sprout who recently passed <3 poor Sprout, but he will live on forever in the form of this tattoo
And I've been tattooing Claire for a while and finally finished this bad boy, now here is the thing- I took a bunch of Photos and not one of them was usable apart from this one which is only half the bloody tattoo! Oh well, I'm sure she will be back (totally addicted haha) so I'll be able to get a healed one!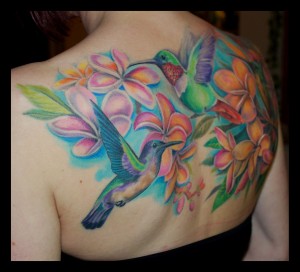 So anyways, I am really looking forward to summer in Oxford- especially as it means I get to treat all my customers and friends to some lovely times in Oxfordshire in the next few months and have some brill adventures.
Hurray!
xx