So the first week back in Jericho Tattoo Emporium was a great one.
Got a bit more done on Aubrey's Jackelope Sleeve
Also got a healed shot of Jessie's Flamingo tattoo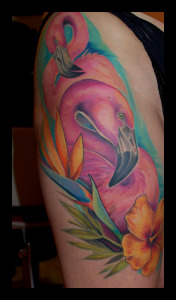 and started another tattoo on her too, a large peacock piece! Can't wait to show you a photo of that next time she comes to Oxford.
And I got some more done on Victoria's little mermaid tattoo

It's my day off today, a busy one of course but after I get all my little jobs, drawing, sketching, updates and emails done I might go and have a little wander round Oxford.
Hope everyone is having a great Monday!
Laters
Hannnah