Hey my lovely little sunfish, How are you all doing? Not that you can answer that on this site! Me and Jen have had a busy but tremendously satisfying weekend away from Oxford. To be more precise we went to Tattoo Tea party in Manchester! We had a great time, met lots of really lovely people and generally worked our arses off!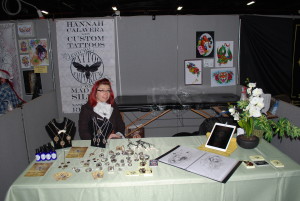 Here is little Madame Silver at the booth before the doors opened, no photo of me as I was having a mini meltdown about my portfolio! And her display was amazing, had much more attention than the tattooing!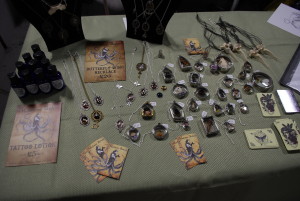 Her jewellery is available on the madame silver website.
The first tattoo I got to do was this cute pug on the lovely Lauren, who sat like a champ.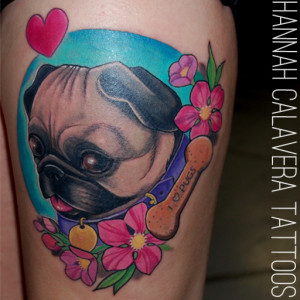 Had loads of fun on this tattoo <3. Then I did a shoulder rose on lovely Lauren 2! Did not get a decent photo so I'll post a pic of that next blog. Then me and Jen pissed about for a bit and ate some food before heading back to the hotel.
Sunday was a bit more chilled out, I did this dia de los muertos gal on Ian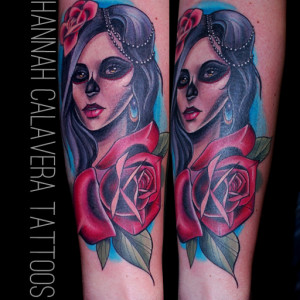 Oh my gosh do I love being a tattooist! It was such fun to tattoo, this one got a bit of attention! Only took 3 hours as well! More of these please?
Then I got tattooed by one of the best tattoo artists everrrr, one of my long time faves. Mr Brian Thomas Wilson of scapegoat tattoo in Oregon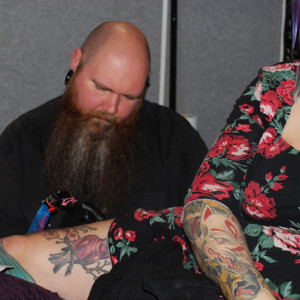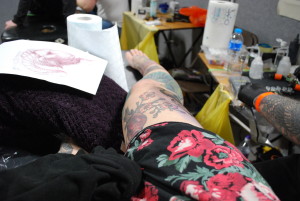 all lovely photos of be getting tattooed completely unprepared, wearing horrid pants (and right before a 4 hour drive home)!! Worth it though. Meet my new cheeky goat!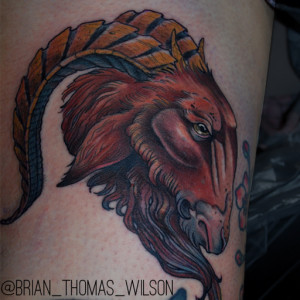 such a beautiful tattoo, I'm so happy <33
So that was our weekend! Now we are safely back in sunny Oxford <3 can't wait to get back to work tomorrow. So inspired!
laters bean-flakes
Hannah
x