Hey again, I'm really trying my best to update more often on this blog to document things for myself more than anything. I sometimes forget how much I do so it'll be great to be able to look back at all the cool stuff that happens.
So this blog is about my guest spot at Legacy Ink in Haverhill!
I never get many healed photos as I tend to start more than I finish here. This spot was the exception though! I got to start and finish this Audrey II tattoo on Chris, an old friend. He too is a massive fan of little shop of horrors and new school tattoos! I rarely get to do New school esque things because not many people know I do this style but it is a favourite of mine 🙂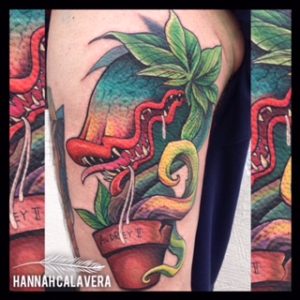 Chris sat amazingly well for his back of thigh. I'm gonna draw up more stuff from my own brain I think as he snapped this up straight away. Here is the process that goes into a tattoo like this.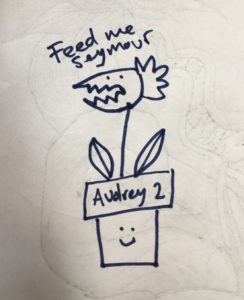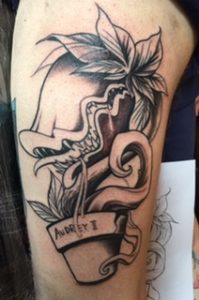 Fascinating I am sure you will agree ( Sarcasm does not come over well on the internet I suppose)
The incredible Josh Hurrell wanted to get a WITCH TATTOO off me whilst I was up there. He let me go wild on it! This is the drawing.
We got to line her too but no shading because he hates me now and I ruined his day. I'll get a picture of that later!
Also here is a rum ham tattoo I did on Ed, so bloody and swole. Hopefully it'll heal up nice and I'll get a better one.
Oh last but not least I forgot this picture of David's Hare (don't call it a bunny, don't call it a bunny) He is getting a half sleeve studded with imagery and subjects that are all related to family. It doesn't all have to be about names and dates if you are weirdos like us!
I'd be surprised if anyone reads these but if you do, ta! You're the best!